Zhou Qiang, president of the Supreme People's Court of China, wrapped up his three day visit to South Korea, which has deepened the pragmatic cooperation between the courts of the two countries, on June 16.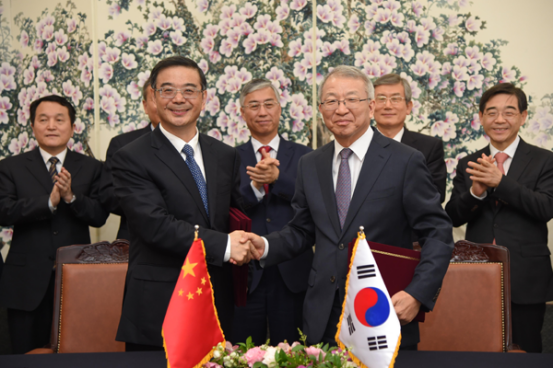 President of the Supreme People's Court, Zhou Qiang (L), who visited South Korea from June 14 to 16, shakes hands with Yang Sung-tae (R), president of the S. Korean Supreme Court. [Photo/People's Court Daily]
Zhou, welcomed by his South Korean counterpart Yang Sung-tae, said the trip resulted from the consensus reached in 2014 when president Xi paid a successful state visit to South Korea.
Since South Korean President Park Geun-hye attended the commemorative events in Beijing marking the 70th anniversary of victory in the World Anti-Fascist War in 2015, the bilateral ties between the two countries have been deepening rapidly, Zhou said.
In speaking about the reform of China's legal system, Zhou said as information construction in the system proceeds, especially through better processing of procedural documents and judicial announcements, a more dynamic, transparent and efficient judicial system emerges.
He also noted that courts of various levels in China are turning themselves into "Smart Courts" to better serve both the people and judiciary.
Yang Sung-tae echoed Zhou as he outlined legal reforms in his country and expressed the desire for closer cooperation in law between the two countries.
Yang Sung-tae expressed his confidence that the trip will raise judicial cooperation between the two courts to a new level.
A memorandum of cooperation and understanding was signed by the two sides.